Adam Puchta Winery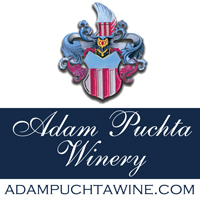 1947 Frene Creek Road
Hermann, MO 65041
573-486-5596
http://www.adampuchtawine.com
Shipping To
Special Process Shipping (12 Bottle Minimum Order)
More Information | Show
Adam Puchta Winery is the oldest, continuously-owned, family farm winery in the country. Located along the banks of Frene Creek just outside of Hermann, Missouri, Adam Puchta Winery is a must-visit Missouri winery.
Adam Puchta Winery is dedicated to producing wines that put quality over quantity and price. They offer more than a sampling of wines, but rather an experience. You have your choice of three tasting experiences; each includes a guided wine sampling with our well-trained, knowledgeable tasting associates and incorporates thoughtfully paired snacks with award-winning wines.
Today Adam Puchta Winery produces more than 20,000 cases of wine each year. Their wines are proudly American, uniquely Missouri and recognized for superior quality.

In addition to the 22 varieties of award-winning wines, Adam Puchta Winery also offers overnight accommodations to their Homestead Guesthaus. This is the original homestead of Adam Puchta's father and was built back in the 1840's, it's now available as whole-house rental. The stone Guesthaus is located on the peaceful property, adjacent to the winery , it's perfect for the couple who wants a quiet country getaway or the space can be arranged to accommodate up to 12 people making it perfect for the girls get-togethers.
Tim Puchta, 6th generation Puchta and current winery owner, invites you to join him at one of his unique wine events and see first-hand why Adam Puchta Winery is the must-see Missouri winery and Guesthaus.
Promotions not available in South Dakota.