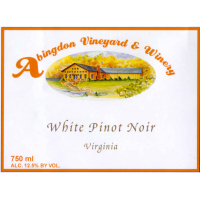 White Pinot Noir
2016 White Blend
Abingdon Vineyard & Winery
VA - Other
Alcohol Level: 14.30%
Size: 750ml
Total Cases:

$16.00
View other wines from this winery.
Shipping To
Special Process Shipping (12 Bottle Minimum Order)
This is a dry wine made from Pinot Noir grapes with a touch of Chardonel. Though technically a "blush" as the wine is made from red grapes, the color is a golden white since the skins were removed before fermentation.