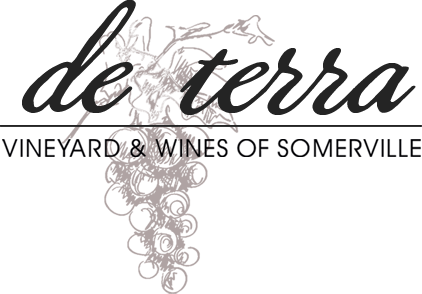 After several years of planning and licensing, de terra Vineyard & Wines of Somerville had a successful soft opening October 18th. Seven different TN wines were introduced; two dry reds, one semi-sweet white, one sweet blush, a southern sweet white, and a red and white muscadine. All of our wines are rich & intensely flavored, reflecting both their origin in the vineyard and the balance of family winemaking.

On a 34 acre farm in Somerville located in the Garnett Community off Joyners Campground, the land is perfect for growing grapes. In 2005, the vineyard began with Cabernet Sauvignon followed by Cabernet Franc and Malbec. All are doing well despite the fact these grapes are not indigenous to this area.

TN is home to many wild grapes known as the muscadine although, in 2011 over 500 Noble, Carlos and Creek domestic red and bronze muscadines were planted here in the vineyard. These have grown substantially, bearing their first commercial crop this year.

In the coming months, other varieties will be introduced to the vineyard along with new wines as the vineyard grows.

The winery was completed this past summer, then the bottling began. Come on out and listen to the history of the vineyard and try our wines. Each has it's own story. The perfect holiday gift, local wine made with TN grapes.