Tabor Home Vineyards and Winery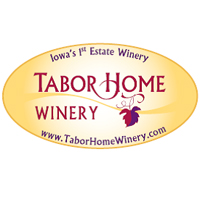 We are renown for the distinctive wines we produce from our own vineyards in the Upper Mississippi River Valley viticulture area and Tabor Home Vineyards and Winery has followers around the country who enjoy wines with attributes that are identified with our growing region. Our red wines are medium bodied and we focus on capturing varietal fruit characters in our wines. The reds are distinguished by their well-balanced acid levels. The white wines we produce are exceptional and clean with the delicate flavors and aromas of our cold climate varieties. We produce several unique sparkling wines and we are discovering that our region has great potential for sparkling wine production. And notably we produce very popular semi-dry and semi-sweet fruit wines from whole fruit that offer a delicious change-of-pace.

Hopefully your interest in wine production in Iowa and our winery has been perked. Tabor Home Vineyards and Winery has been leading the re-birth of the Iowa wine industry since 1996. It is a great story that you can check out at www.TaborHomeWinery.com.